Welcome to Blue Creek Elementary School's Positive Behavioral Intervention and Supports (PBIS) webpage! Our school-wide PBIS system establishes the behavior expectations for all the different areas of our school and for the various classes our students attend. We use and recite our STAR acronym on a daily basis.

Blue Creek Elementary Behavioral Expectations: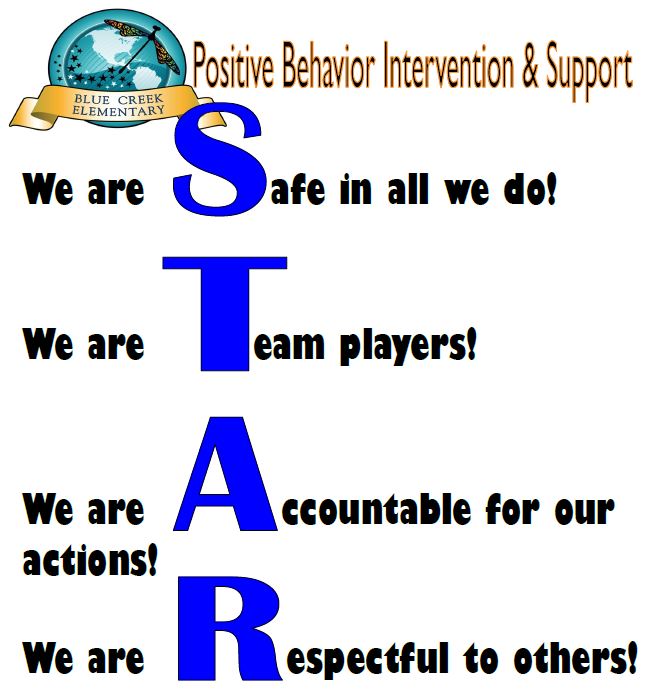 The PBIS system focuses on teaching positive social behaviors. Every day, Blue Creek teachers model and reward positive behaviors in and out of the classroom, rather than waiting for a misbehavior to occur and consequently punishing a student. Our students are rewarded for embodying STAR behavior in a variety of ways:
Starbucks are given to students who are caught being safe, being team players, being respectful, or holding themselves accountable.
Plastic stars are given to entire classes that show STAR behavior around the school.
Tally charts travel with each class around the school; both positive and negative tallies can be earned in a school day based on the individual child's behavioral choices.

Every month, our entire school body loves coming together at our Wake-up Wednesday meeting to celebrate PBIS successes around the school and to set new behavior goals for the coming months.

Blue Creek is currently recognized as a PBIS Model School and is working toward becoming a PBIS Exemplar School. We hope that you, as a part of our Blue Creek community, will join together with us to make Blue Creek the best it can be for our students!